Wildlife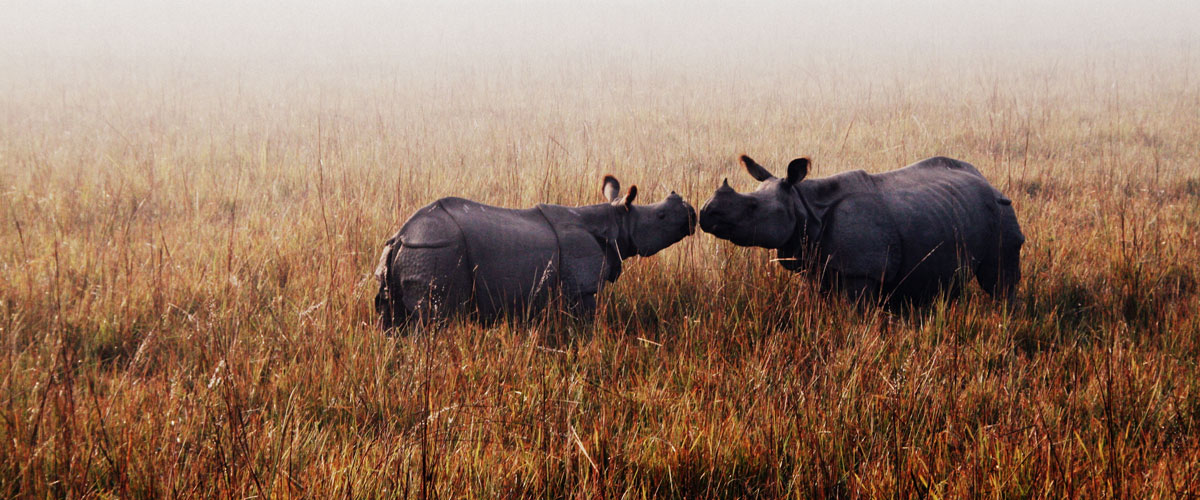 Wildlife Assam
Kaziranga National Park
The oldest park in Assam, Kaziranga, on the south bank of the Brahmaputra River, is world famous for its great Indian one-horned rhinoceros of which there are aplenty. Spread across 860 km2, this World Heritage Site is a dazzling mosaic of dense woodland, tall elephant grass and swathes of reeds interspersed with vast tracts of marshes and shallow pools that are a favourite haunt of this celebrity pre-historic beast. Wild elephant, hog deer and barasingha also abound. Best viewing time is in early morning on elephant-back or by jeep. Kaziranga is located 217 km from Guwahati and 96 km from Jorhat.


Manas National Park
Manas National Park, a project Tiger Reserve and a World Heritage Site, is 176 km northwest of Guwahati. Denizens of the dense jungles here are the one-horned rhinoceros, tiger, hispid hare, gaur, pygmy hog and rare golden langur. With its stunning array of avian life, it is a paradise for birdwatchers.


Nameri National Park
Straddling the lush vistas of Assam and Arunachal Pradesh, Nameri National Park is ideal for a leisurely angling vacation. One can also go river rafting. Nameri is home to the clouded leopard, tiger, Indian bison and capped langur.


Rajiv Gandhi Orang National Park
With conditions similar to those found in Kaziranga, Orang National Park is its miniature edition. Home to the one-horned rhinoceros, it is 150 km from Guwahati.


Pabitora Wildlife Sanctuary
Located close to Guwahati, Pabitora Wildlife Sanctuary is also home to the one-horned rhinoceros.


Dibru-Saikhowa National Park
Newest of its kind, the Dibru-Saikhowa National Park lies partly in Dibrugarh district and partly in Tinsukia district. Covering an area of 340 km2, it is 13 km from Tinsukia town which is 493 km from Guwahati. The park is divided into seven parts, one of which is wet land while the rest consists of grassland and dense forest.

The main attractions at Dibru-Saikhowa National Park are the semi-wild horse and the white-winged wood duck. Other wild inhabitants found in this park include leopard, clouded leopard, elephant, samber, slow loris, Indian wild water buffalo, capped langur, Gangetic river dolphin, Indian wild dog, and more than 250 varieties of local and migratory birds.